On Friday, Oct. 26, the "Wings of Freedom Tour" will land at the Greenville Downtown Airport (GMU) in South Carolina. The B-24, P-51 and B-17 will be open for tours, as well as available for flights. The vintage airplanes will be at the airport all weekend, leaving Oct. 28.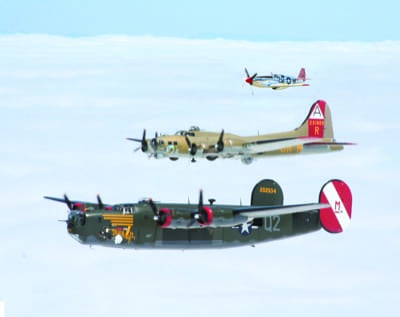 Expected to be at the airport are the Consolidated B-24 Liberator "Witchcraft" WWII Heavy Bomber, the North American P-51C Mustang "Betty Jane," and the Boeing B-17 "Nine O Nine."
"These historic planes are quite rare and we are lucky that they have chosen to come to Greenville," said Tim Bishop, Director of Museum Development for the Upcountry History Museum. "We had asked if they could come as part of our museum's upcoming Veterans Tribute Weekend and we were told that it wasn't possible. So we said when CAN you come?" joked Bishop. "After many back and forth communications they said how about Oct. 26-28 and of course we said GREAT!"
"I am constantly asked when historic planes will come again to the Greenville Downtown Airport." said Joe Frasher, the Airport's Director. "Visits by planes like these are very popular. They don't happen very often because not many of these planes are still flying and the ones that are left are in very high demand to visit places all over the U.S."
The "Wings of Freedom Tour" travels the nation as a flying tribute to the flight crews who flew them, the ground crews who maintained them, the workers who built them, the soldiers, sailors and airmen they helped protect; and the citizens and families that share the freedom that they helped preserve.

"This visit is especially important because our World War II vets are getting well into their 90s, so time is of the essence if we want them to be able to see these planes that were so important to their service," stated Paul Howell, Director of Honor Flight Upstate South Carolina. "Our mission usually is to show our honor and support to these heroes by offering a program that flies our World War II veterans to Washington, DC, to see the memorial built in their honor, and to experience recognition for their service that literally saved the world. Now we have the opportunity to bring a bit of their history to them. This is a further extension of our community's way of saying thank you to our heroes. I know our local veterans and the whole community will love seeing these historic flying machines so close to home!"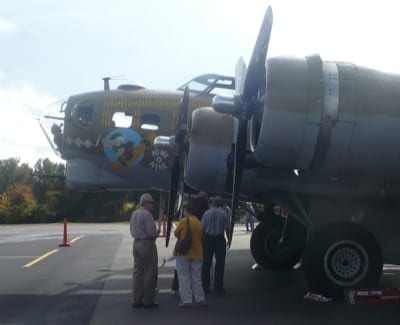 "The Collings Foundation exists solely to keep these planes flying. Parts are expensive because they are hard to find or make. It cost about $4,000 an hour just to run the planes," stated Hunter Chaney, Marketing Director of the Collings Foundation. "The 'donations' for ground tours and flights enable us to keep our aviation history flying," added Chaney.
Access to all three aircraft that includes walk through tours are $12 for adults, and $6 for children 12 and under. World War II veterans get into the ground tours at no charge. No reservations are needed and the walk through tour times are:
Friday, 12 p.m. to 4:30 p.m
Saturday, 9 a.m. to 4:30 p.m.
Sunday, 9:00 a.m. to 4:30 p.m.
Flight Experiences take place before and after walk through tours. Reservations are required. Call 978-562-9182 to arrange your flight. Flight Experiences "Donations" are $425 per person aboard the B-17 or B-24. Flight training "Donations" in the P-51 is $2,200 for a half hour flight and $3,200 for a full hour.
The planes will be on the Runway Cafe's apron, which is on the South Ramp of the Greenville Downtown Airport, located at 21 Airport Road Ext., Greenville, SC 29607.
"For those who would like to attend the Veterans Tribute Weekend, it will be held Nov. 10–11 at the Upcountry History Museum. The event is free to attend and will include exhibits of military collections from the Upstate that include artifacts ranging from medals to army tanks, new Greenville Army Air Base/Donaldson Center exhibit as well as military flyovers." stated Bishop.
For more information: CollingsFoundation.org